One area that many of our clients struggle with is choosing the readings for their wedding ceremony. This is common for many couples who want their readings to reflect them as a couple, no matter if they are religious, spiritual, or non-religious. The right readings let you stamp your personality on the day, allowing you to show your guests who you are as a couple.
Whatever kind of ceremony you're having, you'll find several options here for some of the best reading we have come across working with our clients. So, if you are after funny wedding readings, unique wedding readings from films and TV shows, a romantic wedding poem or a religious bible verse speaking on love, our collection here should give you a good start.
80+ of the Best Wedding Readings For Every Kind of Couple
From pop-culture and Friends quotes, to Lord of the Rings poems and religious verses – somewhere in this list is the perfect wedding reading for you. As well as searching high and low for the best wedding readings around, we've also worked to answer many common questions about readings.
Popular Wedding Readings
These wedding readings are the most popular among couples, but will still feel personal at your wedding. Inspiring, full of passion, and utterly heart-warming, these non-religious readings are perfect for both a civil ceremony or church wedding.
1. Extract from Captain Corelli's Mandolin – Louis de Bernieres
Love is a temporary madness, it erupts like volcanoes and then subsides. And when it subsides you have to make a decision. You have to work out whether your root was so entwined together that it is inconceivable that you should ever part. Because this is what love is.
Love is not breathlessness, it is not excitement, it is not the promulgation of promises of eternal passion. That is just being in love, which any fool can do. Love itself is what is left over when being in love has burned away, and this is both an art and a fortunate accident.
Those that truly love have roots that grow towards each other underground, and when all the pretty blossoms have fallen from their branches, they find that they are one tree and not two.
2. My First Love Story – Rumi
The minute I heard my first love story I started looking for you, not knowing how blind that was.
Lovers don't finally meet somewhere. They're in each other all along.
3. Oh! The Places You'll Go! – Dr Seuss
Congratulations!
Today is your day.
You're off to Great Places!
You're off and away!
You have brains in your head.
You have feet in your shoes.
You can steer yourself any direction you choose.
You're on your own. And you know what you know. And YOU are the guy who'll decide where to go.
You'll look up and down streets. Look'em over with care. About some you will say, "I don't choose to go there." With your head full of brains and your shoes full of feet, you're too smart to go down a not-so-good street.
And you may not find any you'll want to go down. In that case, of course, you'll head straight out of town. It's opener there in the wide open air.
Out there things can happen and frequently do to people as brainy and footsy as you.
And when things start to happen, don't worry. Don't stew. Just go right along. You'll start happening too.
Oh! The Places You'll Go!
You'll be on your way up!
You'll be seeing great sights!
You'll join the high fliers who soar to high heights.
You won't lag behind, because you'll have the speed. You'll pass the whole gang and you'll soon take the lead. Wherever you fly, you'll be best of the best. Wherever you go, you will top all the rest.
Except when you don't.
Because, sometimes, you won't.
You'll get mixed up, of course, as you already know. You'll get mixed up with many strange birds as you go. So be sure when you step. Step with care and great tact and remember that Life's a Great Balancing Act. Just never forget to be dexterous and deft. And never mix up your right foot with your left.
And will you succeed?
Yes! You will, indeed!
(98 and ¾ percent guaranteed.)
Kid, you'll move mountains!
So…be your name Buxbaum or Bixby or Bray or Mordecai Ale Van Allen O'Shea, you're off to Great Places!
Today is your day!
Your mountain is waiting.
So…get on your way!
4. Extract from Les Misérables – Victor Hugo
You can give without loving, but you can never love without giving. The great acts of love are done by those who are habitually performing small acts of kindness. We pardon to the extent that we love. Love is knowing that even when you are alone, you will never be lonely again. And great happiness of life is the conviction that we are loved. Loved for ourselves. And even loved in spite of ourselves.
5. A Lovely Love Story – Edward Monkton
The fierce Dinosaur was trapped inside his cage of ice. Although it was cold he was happy in there. It was, after all, his cage.
Then along came the Lovely Other Dinosaur.
The Lovely Other Dinosaur melted the Dinosaur's cage with kind words and loving thoughts.
"I like this Dinosaur," thought the Lovely Other Dinosaur. "Although he is fierce, he is also tender and he is funny. He is also quite clever though I will not tell him this for now."
"I like this Lovely Other Dinosaur," thought the Dinosaur. "She is beautiful and she is different and she smells so nice. She is also a free spirit which is a quality I much admire in a dinosaur."
"But he can be so distant and so peculiar at times," thought the Lovely Other Dinosaur. "He is also overly fond of things. Are all Dinosaurs so overly fond of things?"
"But her mind skips from here to there so quickly," thought the Dinosaur. "She is also uncommonly keen on shopping. Are all Lovely Other Dinosaurs so uncommonly keen on shopping?"
"I will forgive his peculiarity and his concern for things," thought the Lovely Other Dinosaur, "for they are part of what makes him a richly charactered individual."
"I will forgive her skipping mind and her fondness for shopping," thought the Dinosaur, "for she fills our life with beautiful thoughts and wonderful surprises. Besides, I am not unkeen on shopping either."
Now the Dinosaur and the Lovely Other Dinosaur are old. Look at them. Together they stand on the hill telling each other stories and feeling the warmth of the sun on their backs.
And that, my friends, is how it is with love.
Let us all be Dinosaurs and Lovely Other Dinosaurs together. For the sun is warm. And the world is a beautiful place.
6. The Art of Marriage – Wilfred A Peterson
A good marriage must be created.
In the marriage, the little things are the big things.
It is never being too old to hold hands.
It is remembering to say "I love you" at least once each day,
It is never going to sleep angry.
It is having a mutual sense of values and objectives.
It is standing together and facing the world.
It is forming a circle of love that gathers in the whole family.
It is speaking words of appreciation and demonstrating gratitude in thoughtful ways.
It is having the capacity to forgive and forget.
It is giving each other an atmosphere in which each person can grow.
It is a common search for the good and the beautiful.
It is not only marrying the right person
It is being the right partner.
7. Apache Marriage Blessing – Anon
Now you will feel no rain,
for each of you will be shelter for the other.
Now you will feel no cold,
for each of you will be warmth to the other.
Now there will be no loneliness,
for each of you will be companion to the other.
Now you are two persons,
But there is only one life before you.
May beauty surround you both in the journey ahead and through all the years.
May happiness be your companion to the place where the river meets the sun.
And may your days be good and long upon the earth.
8. The House at Pooh Corner – A.A. Milne
Piglet sidled up to Pooh from behind. "Pooh?" he whispered.
"Yes, Piglet?"
"Nothing," said Piglet, taking Pooh's hand. "I just wanted to be sure of you."
"We'll be Friends Forever, won't we, Pooh?" asked Piglet.
"Even longer," Pooh answered. "If ever there is tomorrow when we're not together… there is something you must always remember. You are braver than you believe, stronger than you seem, and smarter than you think. But the most important thing is, even if we're apart… I'll always be with you."
9. The Beauty of Love – Anon
The question is asked: "Is there anything more beautiful in life than a young couple clasping hands and pure hearts in the path of marriage? Can there be anything more beautiful than young love?"
And the answer is given: "Yes, there is a more beautiful thing.
"It is the spectacle of an old man and an old woman finishing their journey together on that path. Their hands are gnarled but still clasped; their faces are seamed but still radiant; their hearts are physically bowed and tired but still strong with love and devotion. Yes, there is a more beautiful thing than young love. Old love."
10. Winnie the Pooh – A.A. Milne
If you live to be a hundred, I want to live to be a hundred minus one day so I never have to live without you.
Modern Wedding Readings
There are many modern wedding readings among the classics. Many of these are more unconventional, so you won't hear them at every wedding. These modern readings are often sourced from the latest bestsellers, film quotes, songs and more: many here are from literature.
11. Love Is Friendship Caught Fire – Laura Hendricks
Love is friendship caught fire; it is quiet, mutual confidence, sharing and forgiving. It is loyalty through good and bad times.
It settles for less than perfection, and makes allowances for human weaknesses. Love is content with the present, hopes for the future, and does not brood over the past.
It is the day-in and day-out chronicles of irritations, problems, compromises, small disappointments, big victories, and working toward common goals. If you have love in your life, it can make up for a great many things you lack.
If you do not have it, no matter what else there is, it is not enough.
12. Extract from The Amber Spyglass – Philip Pullman
I will love you forever; whatever happens. Till I die and after I die, and when I find my way out of the land of the dead, I'll drift about forever, all my atoms, till I find you again… I'll be looking for you, every moment, every single moment. And when we do find each other again, we'll cling together so tight that nothing and no one'll ever tear us apart. Every atom of me and every atom of you… we'll live in birds and flowers and dragonflies and pine trees and in clouds and in those little specks of light you see floating in sunbeams… and when they use our atoms to make new lives, they won't just be able to take one, they'll have to take two, one of you and one of me, we'll be joined so tight…
13. Extract from Gift of the Sea – Anne Morrow Lindbergh
When you love someone; you do not love them all the time, in exactly the same way, from moment to moment. It is impossibility. It is even a lie to pretend to. And yet this is exactly what most of us demand. We have so little faith in the ebb and flow of life, of love, of relationships. We leap at the flow of the tide and resist in terror its ebb. We are afraid it will never return. We insist on permanency, on duration, on continuity; when the only continuity possible, in life as in love, is in growth, in fluidity — in freedom, in the sense that the dancers are free, barely touching as they pass, but partners in the same pattern. The only real security is not in owning or possessing, not in demanding or expecting, not in hoping, even. Security in a relationship lies neither in looking back to what was in nostalgia, nor forward to what it might be in dread or anticipation, but living in the present relationship and accepting it as it is now. Relationships must be like islands, one must accept them for what they are here and now, within their limits — islands, surrounded and interrupted by the sea, and continually visited and abandoned by the tides.
14. The Journals of Sylvia Plath – Sylvia Plath
I feel good with my husband: I like his warmth and his bigness and his being-there and his making and his jokes and stories and what he reads and how he likes fishing and walks and pigs and foxes and little animals and is honest and not vain or fame-crazy and how he shows his gladness for what I cook him and joy for when I make him something, a poem or a cake, and how he is troubled when I am unhappy and wants to do anything so I can fight out my soul-battles and grow up with courage and a philosophical ease. I love his good smell and his body that fits with mine as if they were made in the same body-shop to do just that. What is only pieces, doled out here and there to this boy and that boy, that made me like pieces of them, is all jammed together in my husband. So I don't want to look around anymore: I don't need to look around for anything.
15. Extract from The Kindly Ones – Neil Gaiman
Have you ever been in love? Horrible isn't it? It makes you so vulnerable. It opens your chest and it opens up your heart and it means that someone can get inside you and mess you up. You build up all these defences, you build up a whole suit of armour, so that nothing can hurt you, then one stupid person, no different from any other stupid person, wanders into your stupid life … You give them a piece of you. They didn't ask for it. They did something dumb one day, like kiss you or smile at you, and then your life isn't your own anymore. Love takes hostages. It gets inside you.
16. Maybe – Anon
Maybe we are supposed to meet the wrong people before we meet the right
one so when they finally arrive we are truly grateful for the gift we have been
given.
Maybe it's true that we don't know what we have lost until we lose it but it is
also true that we don't know what we're missing until it arrives.
Maybe the happiest of people don't have the best of everything, but make the
best of everything that comes their way.
Maybe the best kind of love is the kind where you sit on the sofa together, not
saying a word, and walk away feeling like it was the best conversation you ever
had.
Maybe once in a lifetime you find someone who not only touches your heart but
also your soul, someone who loves you for who you are and not what you could
be.
Maybe the art of true love is not about finding the perfect person, but about
seeing an imperfect person perfectly.
17. Extract from One Day – David Nicholls
'What are you going to do with your life?' In one way or another it seemed that people had been asking her this forever; teachers, her parents, friends at three in the morning, but the question had never seemed this pressing and still she was no nearer an answer… 'Live each day as if it's your last', that was the conventional advice, but really, who had the energy for that? What if it rained or you felt a bit glandy? It just wasn't practical. Better by far to be good and courageous and bold and to make difference. Not change the world exactly, but the bit around you. Cherish your friends, stay true to your principles, live passionately and fully and well. Experience new things. Love and be loved, if you ever get the chance.
18. Relativity – Albert Einstein
Gravitation cannot be held responsible for people falling in love. How on earth can you explain in terms of chemistry and physics so important a biological phenomenon as first love? Put your hand on a stove for a minute and it seems like an hour. Sit with that special girl for an hour and it seems like a minute. That's relativity.
19. Love – Bob Marley
She's not perfect – you aren't either, and the two of you may never be perfect together – but if she can make you laugh, cause you to think twice, and admit to being human and making mistakes, hold on to her and give her the most you can. She may not be thinking about you every second of the day, but she will give you a part of her that she knows you can break – her heart. So don't hurt her, don't change her, don't analyse and don't expect more than she can give. Smile when she makes you happy, let her know when she makes you mad, and miss her when she's not there.
20. Extract from Still Life With Woodpecker – Tom Robbins
Love is the ultimate outlaw. It just won't adhere to any rules. The most any of us can do is to sign on as its accomplice. Instead of vowing to honor and obey, maybe we should swear to aid and abet. That would mean that security is out of the question. The words "make" and "stay" become inappropriate. My love for you has no strings attached. I love you for free.
21. Extract from The Bridge Across Forever – Richard Bach
A soul mate is someone who has locks that fit our keys, and keys to fit our locks. When we feel safe enough to open the locks, our truest selves step out and we can be completely and honestly who we are; we can be loved for who we are and not for who we're pretending to be. Each unveils the best part of the other. No matter what else goes wrong around us, with that one person we're safe in our own paradise. Our soul mate is someone who shares our deepest longings, our sense of direction. When we're two balloons, and together our direction is up, chances are we've found the right person. Our soul mate is the one who makes life come to life.
Non-Religious Weddings Readings
While many a wonderful readings are religious, there are many where religion doesn't play a role. These non-religious wedding readings have something for every kind of couple, from Friends quotes and Sex and the City poems, to heartfelt pieces and Shakespeare – proving that wedding reading don't have to be religious to be meaningful.
22. Wild Awake – Hilary T Smith
People are like cities: We all have alleys and gardens and secret rooftops and places where daisies sprout between the sidewalk cracks, but most of the time all we let each other see is a postcard glimpse of a skyline or a polished square. Love lets you find those hidden places in another person, even the ones they didn't know were there, even the ones they wouldn't have thought to call beautiful themselves.
23. The Nightmare Before Christmas – Tim Burton
My dearest friend, if you don't mind
I'd like to join you by your side
Where we can gaze into the stars
And sit together, now and forever
For it is plain as anyone can see
We're simply meant to be.
24. Carrie's Poem – Sex and the City
His hello was the end of her endings
Her laugh was their first step down the aisle
His hand would be hers to hold forever
His forever was as simple as her smile
He said she was what was missing
She said instantly she knew
She was a question to be answered
And his answer was "I do"
25. Sonnet 18 – William Shakespeare
Shall I compare thee to a summer's day?
Thou art more lovely and more temperate:
Rough winds do shake the darling buds of May,
And summer's lease hath all too short a date;
Sometime too hot the eye of heaven shines,
And often is his gold complexion dimm'd;
And every fair from fair sometime declines,
By chance, or nature's changing course, untrimm'd.
But thy eternal summer shall not fade,
Not lose possession of that fair thou owest;
Nor shall death brag thou wanderest in his shade,
When in eternal lines to time thou growest;
So long as men can breathe, or eyes can see,
So long as lives this, and this gives life to thee.
26. Just Kids – Patti Smith
"Where does it all lead? What will become of us?
These were our young questions, and young answers were revealed.
It leads to each other. We become ourselves…
"What will happen to us?" I asked. "There will always be us," he answered.
27. A Vow – Wendy Cope
I cannot promise never to be angry;
I cannot promise always to be kind.
You know what you're taking on, my darling
It's only at the start that love is blind.
And yet I'm still the one you want to be with
And you're the one for me – of that I'm sure.
You're my closest friend, my favourite person,
The lover and the home I've waited for.
I cannot promise that I will deserve you
From this day on. I hope to pass that test.
I love you, and I want to make you happy.
I promise I will do my very best.
28. The Notebook – Nicholas Sparks
I am nothing special; just a common man with common thoughts, and I've led a common life. There are no monuments dedicated to me and my name will soon be forgotten. But in one respect I have succeeded as gloriously as anyone who's ever lived: I've loved another with all my heart and soul; and to me, this has always been enough.
29. The Ent and The Ent Wife – Lord of The Rings, J.R.R Tolkien
When Winter comes, and singing ends; when darkness falls at last;
When broken is the barren bough, and light and labour past;
I'll look for thee, and wait for thee, until we meet again:
Together we will take the road beneath the bitter rain!
Together we will take the road that leads into the West,
And far away will find a land where both our hearts may rest.
30. Monica from Friends
For so long I wondered if I would ever find my prince, my soulmate. Then three years ago, at another wedding, I turned to a friend for comfort. And instead, I found everything that I'd ever been looking for my whole life. And now here we are with our future before us, and I only want to spend it with you, my prince, my soulmate, my friend.
31. Everything is Illuminated – Jonathan Safran Foer
I love you also means I love you more than anyone loves you,
or has loved you, or will love you, and also,
I love you in a way that no one loves you,
or has loved you, or will love you, and also,
I love you in a way that I love no one else,
and never have loved anyone else,
and never will love anyone else.
32. Blue-Eyed Devil – Lisa Kleypas
I no longer believed in the idea of soulmates, or love at first sight. But I was beginning to believe that a very few times in your life, if you were lucky, you might meet someone who was exactly right for you. Not because he was perfect, or because you were, but because your combined flaws were arranged in a way that allowed two separate beings to hinge together.
Traditional Wedding Readings
If you're looking for a wedding reading that's stood the test of time, these traditional wedding readings are ideal. Some guests may have heard these oldies but goodies, while others will be hearing them for the first time. The Velveteen Rabbit is a great reading to have a child give – we guarantee there won't be a dry eye among the guests!
33. Extract from The Velveteen Rabbit – Margery Williams
"What is REAL?" asked the Rabbit one day, when they were lying side by side near the nursery fender, before Nanna came to tidy the room. "Does it mean having things that buzz inside you and a stick-out handle?"
"Real isn't how you are made," said the Skin Horse. "It's a thing that happens to you. When a child loves you for a long, long time, not just to play with, but REALLY loves you, then you become Real."
"Does it hurt?" asked the Rabbit.
"Sometimes," said the Skin Horse, for he was always truthful. "When you are Real you don't mind being hurt."
"Does it happen all at once, like being wound up," he asked, "or bit by bit?"
"It doesn't happen all at once," said the Skin Horse. "You become. It takes a long time. That's why it doesn't happen often to people who break easily, or have sharp edges, or who have to be carefully kept. Generally, by the time you are Real, most of your hair has been loved off, and your eyes drop out and you get loose in your joints and very shabby. But these things don't matter at all, because once you are Real you can't be ugly, except to people who don't understand."
34. Extract from Plato's Symposium – Plato
Humans have never understood the power of Love, for if they had they would surely have built noble temples and altars and offered solemn sacrifices; but this is not done, and most certainly ought to be done, since Love is our best friend, our helper, and the healer of the ills which prevent us from being happy.
To understand the power of Love, we must understand that our original human nature was not like it is now, but different. Human beings each had two sets of arms, two sets of legs, and two faces looking in opposite directions. There were three sexes then: one comprised of two men called the children of the Sun, one made of two women called the children of the Earth, and a third made of a man and a woman, called the children of the Moon. Due to the power and might of these original humans, the Gods began to fear that their reign might be threatened. They sought for a way to end the humans' insolence without destroying them.
It was at this point that Zeus divided the humans in half. After the division the two parts of each desiring their other half, came together, and throwing their arms about one another, entwined in mutual embraces, longing to grow into one. So ancient is the desire of one another which is implanted in us, reuniting our original nature, making one of two, and healing the state of humankind.
Each of us when separated, having one side only, is but the indenture of a person, and we are always looking for our other half. Those whose original nature lies with the children of the Sun are men who are drawn to other men, those from the children of the Earth are women who love other women, and those from the children of the Moon are men and women drawn to one another. And when one of us meets our other half, we are lost in an amazement of love and friendship and intimacy, and would not be out of the other's sight even for a moment. We pass our whole lives together, desiring that we should be melted into one, to spend our lives as one person instead of two, and so that after our death there will be one departed soul instead of two; this is the very expression of our ancient need. And the reason is that human nature was originally one and we were a whole, and the desire and pursuit of the whole is called Love.
35. Irish Blessing
May your mornings bring joy and your evenings bring peace.
May your troubles grow few as your blessings increase.
May the saddest day of your future
Be no worse than the happiest day of your past.
May your hands be forever clasped in friendship
And your hearts joined forever in love.
Your lives are very special,
God has touched you in many ways.
May his blessings rest upon you
And fill all your coming days.
36. Love Is a Great Thing – Thomas à Kempis
Love is a great thing, yea, a great and thorough good. By itself it makes that is heavy light; and it bears evenly all that is uneven.
It carries a burden which is no burden; it will not be kept back by anything low and mean; it desires to be free from all wordly affections, and not to be entangled by any outward prosperity, or by any adversity subdued.
Love feels no burden, thinks nothing of trouble, attempts what is above its strength, pleads no excuse of impossibility. It is therefore able to undertake all things, and it completes many things, and warrants them to take effect, where he who does not love would faint and lie down.
Though weary, it is not tired; though pressed it is not straitened; though alarmed, it is not confounded; but as a living flame it forces itself upwards and securely passes through all.
Love is active and sincere, courageous, patient, faithful, prudent and manly.
37. Blessing for a Marriage – James Billet Freeman
May your marriage bring you
all the exquisite excitements a marriage should bring,
and may life grant you also patience,
tolerance, and understanding.
May you always need one another –
not so much to fill your emptiness
as to help you to know your fullness.
A mountain needs a valley to be complete;
the valley does not make the mountain less,
but more; and the valley is more a valley
because it has a mountain towering over it.
So let it be with you and you.
May you need one another, but not out of weakness.
May you want one another, but not out of lack.
May you entice one another, but not compel one another.
May you embrace one another, but not encircle one another.
May you succeed in all important ways with one another,
and not fail in the little graces.
May you look for things to praise,
often say, "I love you!"
and take no notice of small faults.
If you have quarrels that push you apart,
may both of you hope to have good sense enough
to take the first step back.
May you enter into the mystery
which is the awareness of one another's presence –
no more physical than spiritual,
warm and near when you are side by side,
and warm and near when you are in separate rooms
or even distant cities.
May you have happiness,
and may you find it making one another happy.
May you have love,
and may you find it loving one another.
38. Extract from 'De Imitatio Christi' – Thomas à Kempis
Love often knows no limits but overflows all bounds. Love feels no burden, thinks nothing of troubles, attempts more than it is able, and does not plead impossibility, because it believes that it may and can do all things. For this reason, it is able to do all, performing and effecting much where he who does not love fails and falls.
Love is watchful. Sleeping, it does not slumber. Wearied, it is not tired. Pressed, it is not straitened. Alarmed, it is not confused, but like a living flame, a burning torch, it forces its way upward and passes unharmed through every obstacle.
39. Never Marry but for Love – William Penn
Never marry but for love; but see that thou lovest what is lovely. He that minds a body and not a soul has not the better part of that relationship, and will consequently lack the noblest comfort of a married life.
Between a man and his wife, nothing ought to rule but love. As love ought to bring them together, so it is the best way to keep them well together.
A husband and wife that love one another show their children that they should do so too. Others visibly lose their authority in their families by the contempt of one another, and teach their children to be unnatural by their own examples.
Let not enjoyment lessen, but augment, affection; it being the basest of passions to like when we have not, what we slight when we possess.
Here it is we ought to search out our pleasure, where the field is large and full of variety, and of an enduring nature; sickness, poverty or disgrace being not able to shake it because it is not under the moving influences of worldly contingencies.
Nothing can be more entire and without reserve; nothing more zealous, affectionate and sincere; nothing more contented than such a couple, nor greater temporal felicity than to be one of them.
Romantic Wedding Readings
Love and romance should be at the heart of every wedding celebration, choosing a beautiful reading that reflects that is a wonderful choice. If either of you have a favorite novel, that can be a great place to start looking for a reading that is meaningful to you. You can also try reading out the lyrics to a favorite song of both of yours, something with a lot of significance to each of you, for a romantic wedding reading.
40. True Friendship – Judy Bielicki
It is often said that it is love that makes the world go round. However, without doubt,
it is friendship which keeps our spinning existence on an even keel.
True friendship provides so many of the essentials for a happy life — it is the
foundation on which to build an enduring relationship, it is the mortar which bonds us
together in harmony, and it is the calm, warm protection we sometimes need when
the world outside seems cold and chaotic.
True friendship holds a mirror to our foibles and failings, without destroying our sense
of worthiness. True friendship nurtures our hopes, supports us in our
disappointments, and encourages us to grow to our best potential.
Bride and Groom came together as friends. Today, they pledge to
each other not only their love, but also the strength, warmth and, most importantly,
the fun of true friendship.
41. Extract from The Road – Cormac McCarthy
Lying under such a myriad of stars.
The sea's black horizon.
He rose and walked out and stood barefoot in the sand and watched the pale surf appear all down the shore and roll and crash and darken again.
When he went back to the fire he knelt and smoothed her hair as she slept and he said if he were God he would have made the world just so and no different.
42. Ancient Hawaiian Marriage Prayer – Anon
Before we met, you and I were halves unjoined except in the wide rivers of our minds. We were each other's distant shore, the opposite wings of a bird, the other half of a seashell. We did not know the other then, did not know our determination to keep alive the cry of one riverbank to the other. We were apart, yet connected in our ignorance of each other, like two apples sharing a common tree. Remember?
I knew you existed long before you understood my desire to join my freedom to yours. Our paths collided long enough for our indecision to be swallowed up by the greater need of love. When you came to me, the sun surged towards the earth and moon escaped from darkness to bless the union of two spirits, so alike that the creator had designed them for life's endless circle.
Beloved partner, keeper of my heart's odd secrets, clothed in summer blossoms so the icy hand of winter never touches us. I thank your patience. Our joining is like a tree to earth, a cloud to sky and even more. We are the reason the world can laugh on its battlefields and rise from the ashes of its selfishness to hear me say, in this time, this place, this way – I loved you best of all.
43. Quote from William Butler Yeats
I think a man and woman should choose each other for life, for the simple reason that a long life with all its accidents is barely enough time for a man and woman to understand each other. And to understand is to love.
44. Extract from A Farewell to Arms – Ernest Hemingway
At night, there was the feeling that we had come home, feeling no longer alone, waking in the night to find the other one there, and not gone away; all other things were unreal. We slept when we were tired and if we woke the other one woke too so one was not alone. Often a man wishes to be alone and a woman wishes to be alone too and if they love each other they are jealous of that in each other, but I can truly say we never felt that. We could feel alone when we were together, alone against the others. We were never lonely and never afraid when we were together.
45. Extract from Doctor Zhivago – Boris Pasternak
Oh, what a love it was, utterly free, unique, like nothing else on earth! Their thoughts were like other people's songs.
They loved each other, not driven by necessity, by the 'blaze of passion' often falsely ascribed to love. They loved each other because everything around them willed it, the trees and the clouds and the sky over their heads and the earth under their feet. Perhaps their surrounding world, the strangers they met in the street, the wide expanses they saw on their walks, the rooms in which they lived or met, took more delight in their love than they themselves did.
46. I Will Be Here – Steven Curtis Chapman
Tomorrow morning if you wake up,
And the sun does not appear
I, I will be here.
If in the dark we lose sight of love,
Hold my hand, and have no fear
Cause I, I will be here.
I will be here when you feel like being quiet
When you need to speak your mind,
I will listen and
I will be here when the laughter turns to cryin'
Through the winning, losing and tryin'
We'll be together 'cause I will be here.
Tomorrow morning if you wake up,
And the future is unclear
I, I will be here.
As sure as seasons are made for change,
Our lifetime's are made for years
So, I, I will be here.
I will be here and you can cry on my shoulder,
When the mirror tells us we're older,
I will hold you and
I will be here to watch you grow in beauty
And tell you all the things you are to me
I will be here.
I will be true to the promise I have made
To you and to the One who gave you to me
I, I will be here.
47. Guess How Much I Love You – Sam McBratney
Little Nutbrown Hare, who was going to bed, held on tight to Big Nutbrown Hare's very long ears. He wanted to be sure that Big Nutbrown Hare was listening.
"Guess how much I love you," he said.
"Oh, I don't think I could guess that," said Big Nutbrown Hare.
"This much," said Little Nutbrown Hare, stretching out his arms as wide as they could go.
Big Nutbrown Hare had even longer arms. "But I love YOU this much," he said.
Hmm, that is a lot, thought Little Nutbrown Hare.
"I love you as high as I can reach." said Little Nutbrown Hare.
"I love you as high as I can reach," said Big Nutbrown Hare.
That is quite high, thought Little Nutbrown Hare. I wish I had arms like that.
Then Little Nutbrown Hare had a good idea. He tumbled upside down and reached up the tree trunk with his feet.
"I love you all the way up to my toes!" he said.
"And I love you all the way up to your toes," said Big Nutbrown Hare, swinging him up over his head.
"I love you as high as I can HOP!" laughed Little Nutbrown Hare, bouncing up and down.
"But I love you as high as I can hop," smiled Big Nutbrown Hare – and he hopped so high that his ears touched the branches above.
That's good hopping, thought Little Nutbrown Hare. I wish I could hop like that.
"I love you all the way down the lane as far as the river," cried Little Nutbrown Hare.
"I love you across the river and over the hills," said Big Nutbrown Hare.
That's very far, thought Little Nutbrown Hare. He was almost too sleepy to think any more. Then he looked beyond the thorn bushes, out into the big dark night. Nothing could be further than the sky.
"I love you right up to the MOON," he said, and closed his eyes.
"Oh, that's far," said Big Nutbrown Hare. "That is very, very far."
Big Nutbrown Hare settled Little Nutbrown Hare into his bed of leaves. He leaned over and kissed him good night.
Then he lay down close by and whispered with a smile, "I love you right up to the moon – AND BACK."
48. Extract from The Secret Garden – Francis Hodgson Burnett
One of the strange things about living in the world is that it is only now and then one is quite sure one is going to live forever and ever and ever. One knows it sometimes when one gets up at the tender solemn dawn-time and goes out and stands alone and throws one's head far back and looks up and up and watches the pale sky slowly changing and flushing and marvellous unknown things happening until the East almost makes one cry out and one's heart stands still at the strange unchanging majesty of the rising of the sun—which has been happening every morning for thousands and thousands of years. One knows it then for a moment or so. And one knows it sometimes when one stands by oneself in a wood at sunset and the mysterious deep gold stillness slanting though and under the branches seems to be saying slowly again and again something one cannot quite hear, however much one tries. Then sometimes the immense quiet of the dark blue at night with millions of stars waiting and watching makes one sure; and sometimes a sound of far-off music makes it true; and sometimes a look in someone's eye.
Bible Readings for Weddings
Honour your beliefs with one of these beautiful Bible readings about love. Each one is ideal for a church wedding and demonstrates your love, faith and commitment to one another and God. 1 Corinthians 13 is an enduring testament to love and one of the most popular wedding readings.
49. 1 Corinthians 13:1-13
If I speak in the tongues of men and of angels, but have not love, I am a noisy gong or a clanging cymbal. And if I have prophetic powers, and understand all mysteries and all knowledge, and if I have all faith, so as to remove mountains, but have not love, I am nothing. If I give away all I have, and if I deliver up my body to be burned, but have not love, I gain nothing.
Love is patient and kind; love does not envy or boast; it is not arrogant or rude. It does not insist on its own way; it is not irritable or resentful; it does not rejoice at wrongdoing, but rejoices with the truth. Love bears all things, believes all things, hopes all things, endures all things.
Love never ends. As for prophecies, they will pass away; as for tongues, they will cease; as for knowledge, it will pass away. For we know in part and we prophesy in part, but when the perfect comes, the partial will pass away. When I was a child, I spoke like a child, I thought like a child, I reasoned like a child. When I became a man, I gave up childish ways. For now we see in a mirror dimly, but then face to face. Now I know in part; then I shall know fully, even as I have been fully known. So now faith, hope, and love abide, these three; but the greatest of these is love.
50. Song of Solomon 2:10-13; 8:6,7
My beloved speaks and says to me:
'Arise, my love, my fair one,
and come away;
for now the winter is past,
the rain is over and gone.
The flowers appear on the earth;
the time of singing has come,
and the voice of the turtle dove
is heard in our land.
The fig tree puts forth its figs,
and the vines are in blossom;
they give forth fragrance.
Arise, my love, my fair one,
and come away.'
Set me as a seal upon your heart,
as a seal upon your arm;
for love is strong as death,
passion fierce as the grave.
Its flashes are flashes of fire,
a raging flame.
Many waters cannot quench love,
neither can floods drown it.
If one offered for love
all the wealth of one's house,
it would be utterly scorned.
51. Colossians 3:12-17
As God's chosen ones, holy and beloved, clothe yourselves with compassion, kindness, humility, meekness, and patience. Bear with one another and, if anyone has a complaint against another, forgive each other; just as the Lord has forgiven you, so you also must forgive. Above all, clothe yourselves with love, which binds everything together in perfect harmony. And let the peace of Christ rule in your hearts, to which indeed you were called in the one body. And be thankful. Let the word of Christ dwell in you richly; teach and admonish one another in all wisdom; and with gratitude in your hearts sing psalms, hymns, and spiritual songs to God. And whatever you do, in word or deed, do everything in the name of the Lord Jesus, giving thanks to God the Father through him.
52. Romans 8:31-35, 37-39
What then are we to say about these things? If God is for us, who is against us? He who did not withhold his own Son, but gave him up for all of us, will he not with him also give us everything else? Who will bring any charge against God's elect? It is God who justifies. Who is to condemn? It is Christ Jesus, who died, yes, who was raised, who is at the right hand of God, who indeed intercedes for us. Who will separate us from the love of Christ? Will hardship, or distress, or persecution, or famine, or nakedness, or peril, or sword?
No, in all these things we are more than conquerors through him who loved us. For I am convinced that neither death, nor life, nor angels, nor rulers, nor things present, nor things to come, nor powers, nor height, nor depth, nor anything else in all creation, will be able to separate us from the love of God in Christ Jesus our Lord.
53. Psalm 67
God be gracious to us and bless us
and make his face to shine upon us,
That your way may be known upon earth,
your saving power among all nations.
Let the peoples praise you, O God;
let all the peoples praise you.
O let the nations rejoice and be glad,
for you will judge the peoples righteously
and govern the nations upon earth.
Let the peoples praise you, O God;
let all the peoples praise you.
Then shall the earth bring forth her increase,
and God, our own God, will bless us.
God will bless us,
and all the ends of the earth shall fear him.
54. 1 John 4:7-12
Dear friends, let us love one another, for love comes from God. Everyone who loves has been born of God and knows God. Whoever does not love does not know God, because God is love. This is how God showed his love among us: He sent his one and only Son into the world that we might live through him. This is love: not that we loved God, but that he loved us and sent his Son as an atoning sacrifice for our sins. Dear friends, since God so loved us, we also ought to love one another. No one has ever seen God; but if we love one another, God lives in us and his love is made complete in us.
55. Philippians 4:4-9
Rejoice in the Lord always; again I will say, Rejoice. Let your gentleness be known to everyone. The Lord is near. Do not worry about anything, but in everything by prayer and supplication with thanksgiving let your requests be made known to God. And the peace of God, which surpasses all understanding, will guard your hearts and your minds in Christ Jesus.
Finally, beloved, whatever is true, whatever is honourable, whatever is just, whatever is pure, whatever is pleasing, whatever is commendable, if there is any excellence and if there is anything worthy of praise, think about these things. Keep on doing the things that you have learned and received and heard and seen in me, and the God of peace will be with you.
56. Tobit 8:4-8
When the parents had gone out and shut the door of the room, Tobias got out of bed and said to Sarah, 'Sister, get up, and let us pray and implore our Lord that he grant us mercy and safety.' So she got up, and they began to pray and implore that they might be kept safe. Tobias began by saying,
'Blessed are you, O God of our ancestors,
and blessed is your name in all generations for ever.
Let the heavens and the whole creation bless you for ever.
You made Adam, and for him you made his wife Eve
as a helper and support.
From the two of them the human race has sprung.
You said, "It is not good that the man should be alone;
let us make a helper for him like himself."
I now am taking this kinswoman of mine,
not because of lust,
but with sincerity.
Grant that she and I may find mercy
and that we may grow old together.'
And they both said, 'Amen, amen.'
57. Romans 7:1, 2, 9-18
Do you not know, brothers and sisters – for I am speaking to those who know the law – that the law is binding on a person only during that person's lifetime? Thus a married woman is bound by the law to her husband as long as he lives; but if her husband dies, she is discharged from the law concerning the husband.
I was once alive apart from the law, but when the commandment came, sin revived and I died, and the very commandment that promised life proved to be death to me. For sin, seizing an opportunity in the commandment, deceived me and through it killed me. So the law is holy, and the commandment is holy and just and good.
Did what is good, then, bring death to me? By no means! It was sin, working death in me through what is good, in order that sin might be shown to be sin, and through the commandment might become sinful beyond measure.
For we know that the law is spiritual; but I am of the flesh, sold into slavery under sin. I do not understand my own actions. For I do not do what I want, but I do the very thing I hate. Now if I do what I do not want, I agree that the law is good. But in fact it is no longer I that do it, but sin that dwells within me. For I know that nothing good dwells within me, that is, in my flesh. I can will what is right, but I cannot do it.
58. John 15:9-17
Jesus said to his disciples: 'As the Father has loved me, so have I loved you. Abide in my love. If you keep my commandments, you will abide in my love, just as I have kept my Father's commandments and abide in his love. These things I have spoken to you, that my joy may be in you, and that your joy may be full.
'This is my commandment, that you love one another as I have loved you. Greater love has no one than this, that someone lay down his life for his friends. You are my friends if you do what I command you. No longer do I call you servants, for the servant does not know what his master is doing; but I have called you friends, for all that I have heard from my Father I have made known to you. You did not choose me, but I chose you and appointed you that you should go and bear fruit and that your fruit should abide, so that whatever you ask the Father in my name, he may give it to you. These things I command you, so that you will love one another.'
59. Romans 12:1,2, 9-13
I appeal to you therefore, brothers and sisters, by the mercies of God, to present your bodies as a living sacrifice, holy and acceptable to God, which is your spiritual worship. Do not be conformed to this world, but be transformed by the renewing of your minds, so that you may discern what is the will of God – what is good and acceptable and perfect.
Let love be genuine; hate what is evil, hold fast to what is good; love one another with mutual affection; outdo one another in showing honour. Do not lag in zeal, be ardent in spirit, serve the Lord. Rejoice in hope, be patient in suffering, persevere in prayer. Contribute to the needs of the saints; extend hospitality to strangers.
60. John 2:1-11
On the third day there was a wedding in Cana of Galilee, and the mother of Jesus was there. Jesus and his disciples had also been invited to the wedding. When the wine gave out, the mother of Jesus said to him, 'They have no wine.' And Jesus said to her, 'Woman, what concern is that to you and to me? My hour has not yet come.' His mother said to the servants, 'Do whatever he tells you.' Now standing there were six stone water-jars for the Jewish rites of purification, each holding twenty or thirty gallons. Jesus said to them, 'Fill the jars with water.' And they filled them up to the brim. He said to them, 'Now draw some out, and take it to the chief steward.' So they took it. When the steward tasted the water that had become wine, and did not know where it came from (though the servants who had drawn the water knew), the steward called the bridegroom and said to him, 'Everyone serves the good wine first, and then the inferior wine after the guests have become drunk. But you have kept the good wine until now.' Jesus did this, the first of his signs, in Cana of Galilee, and revealed his glory; and his disciples believed in him.
61. Romans 15:1-3, 5-7, 13
We who are strong ought to put up with the failings of the weak, and not to please ourselves. Each of us must please our neighbour for the good purpose of building up the neighbour. For Christ did not please himself; but, as it is written, 'The insults of those who insult you have fallen on me.'
May the God of steadfastness and encouragement grant you to live in harmony with one another, in accordance with Christ Jesus, so that together you may with one voice glorify the God and Father of our Lord Jesus Christ. Welcome one another, therefore, just as Christ has welcomed you, for the glory of God.
May the God of hope fill you with all joy and peace in believing, so that you may abound in hope by the power of the Holy Spirit.
62. Mark 10:6-9, 13-16
Jesus said, 'From the beginning of creation, "God made them male and female." "For this reason a man shall leave his father and mother and be joined to his wife, and the two shall become one flesh." So they are no longer two, but one flesh. Therefore what God has joined together, let no one separate.'
People were bringing little children to him in order that he might touch them; and the disciples spoke sternly to them. But when Jesus saw this, he was indignant and said to them, 'Let the little children come to me; do not stop them; for it is to such as these that the kingdom of God belongs. Truly I tell you, whoever does not receive the kingdom of God as a little child will never enter it.' And he took them up in his arms, laid his hands on them, and blessed them.
63. Genesis 2:18-24
The Lord God said: "It is not good for the man to be alone.
I will make a suitable partner for him."
So the Lord God formed out of the ground
various wild animals and various birds of the air,
and he brought them to the man to see what he would call them;
whatever the man called each of them would be its name.
The man gave names to all the cattle,
all the birds of the air, and all wild animals;
but none proved to be the suitable partner for the man.
So the Lord God cast a deep sleep on the man,
and while he was asleep,
he took out one of his ribs and closed up its place with flesh.
The Lord God then built up into a woman the rib
that he had taken from the man.
When he brought her to the man, the man said:
"This one, at last, is bone of my bones
and flesh of my flesh;
This one shall be called 'woman,'
for out of 'her man' this one has been taken."
That is why a man leaves his father and mother
and clings to his wife,
and the two of them become one body.
The word of the Lord.
64. Ephesians 3:14-20
I bow my knees before the Father, from whom every family in heaven and on earth takes its name. I pray that, according to the riches of his glory, he may grant that you may be strengthened in your inner being with power through his Spirit, and that Christ may dwell in your hearts through faith, as you are being rooted and grounded in love. I pray that you may have the power to comprehend, with all the saints, what is the breadth and length and height and depth, and to know the love of Christ that surpasses knowledge, so that you may be filled with all the fullness of God.
Now to him who by the power at work within us is able to accomplish abundantly far more than all we can ask or imagine, to him be glory in the church and in Christ Jesus to all generations, for ever and ever. Amen.
65. Ephesians 5:21-33
Be subject to one another out of reverence for Christ.
Wives, be subject to your husbands as you are to the Lord. For the husband is the head of the wife just as Christ is the head of the church, the body of which he is the Saviour. Just as the church is subject to Christ, so also wives ought to be, in everything, to their husbands.
Husbands, love your wives, just as Christ loved the church and gave himself up for her, in order to make her holy by cleansing her with the washing of water by the word, so as to present the church to himself in splendour, without a spot or wrinkle or anything of the kind – yes, so that she may be holy and without blemish. In the same way, husbands should love their wives as they do their own bodies. He who loves his wife loves himself. For no one ever hates his own body, but he nourishes and tenderly cares for it, just as Christ does for the church, because we are members of his body.
'For this reason a man will leave his father and mother and be joined to his wife, and the two will become one flesh.'
This is a great mystery, and I am applying it to Christ and the church. Each of you, however, should love his wife as himself, and a wife should respect her husband.
66. 1 John 3:18-24
Little children, let us love, not in word or speech, but in truth and action. And by this we will know that we are from the truth and will reassure our hearts before him whenever our hearts condemn us; for God is greater than our hearts, and he knows everything. Beloved, if our hearts do not condemn us, we have boldness before God; and we receive from him whatever we ask, because we obey his commandments and do what pleases him.
And this is his commandment, that we should believe in the name of his Son Jesus Christ and love one another, just as he has commanded us. All who obey his commandments abide in him, and he abides in them. And by this we know that he abides in us, by the Spirit that he has given us.
67. Genesis 1:26-28
Then God said, 'Let us make humankind in our image, according to our likeness; and let them have dominion over the fish of the sea, and over the birds of the air, and over the cattle, and over all the wild animals of the earth, and over every creeping thing that creeps upon the earth.'
So God created humankind in his image,
in the image of God he created them;
male and female he created them.
God blessed them, and God said to them, 'Be fruitful and multiply, and fill the earth and subdue it; and have dominion over the fish of the sea and over the birds of the air and over every living thing that moves upon the earth.'
68. Psalm 121
I lift up my eyes to the hills
from where is my help to come?
My help comes from the Lord
the maker of heaven and earth.
He will not suffer your foot to stumble,
he who watches over you will not sleep.
Behold, he who keeps watch over Israel
shall neither slumber nor sleep.
The Lord himself watches over you,
the Lord is your shade at your right hand.
So that the sun shall not strike you by day
neither the moon by night.
The Lord shall keep you from all evil,
it is he who shall keep your soul.
The Lord shall keep watch over your going out
and your coming in,
from this time forth for evermore.
69. 1 John 4:7-12
Beloved, let us love one another, because love is from God; everyone who loves is born of God and knows God. Whoever does not love does not know God, for God is love. God's love was revealed among us in this way: God sent his only Son into the world so that we might live through him. In this is love, not that we loved God but that he loved us and sent his Son to be the atoning sacrifice for our sins. Beloved, since God loved us so much, we also ought to love one another. No one has ever seen God; if we love one another, God lives in us, and his love is perfected in us.
70. Matthew 5:1-10
When Jesus saw the crowds, he went up the mountain; and after he sat down, his disciples came to him.
Then he began to speak, and taught them, saying:
Blessed are the poor in spirit, for theirs is the kingdom of heaven.
Blessed are those who mourn, for they will be comforted.
Blessed are the meek, for they will inherit the earth.
Blessed are those who hunger and thirst for righteousness, for they will be filled.
Blessed are the merciful, for they will receive mercy.
Blessed are the pure in heart, for they will see God.
Blessed are the peacemakers, for they will be called children of God.
Blessed are those who are persecuted for righteousness' sake, for theirs is the kingdom of heaven.
Humorous Weddings Readings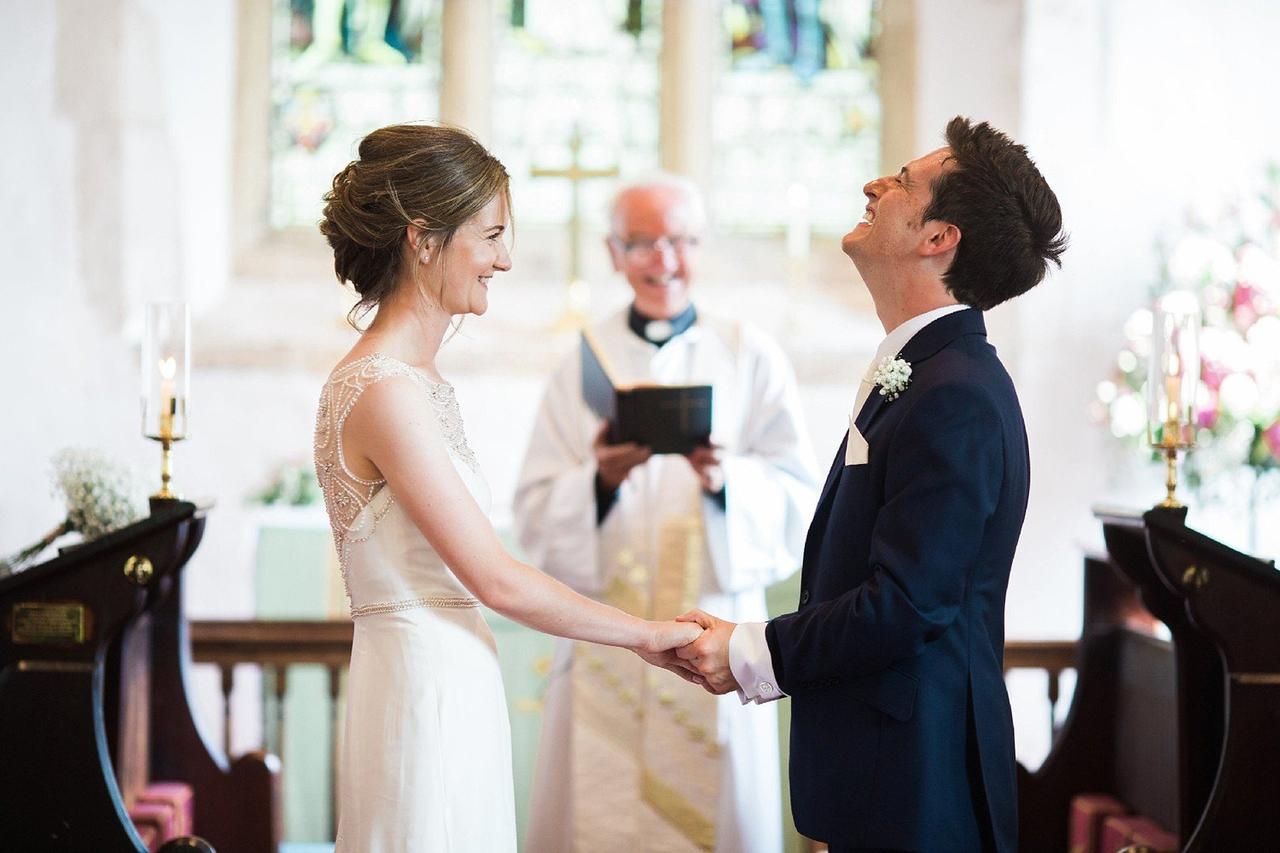 71. Yes, I'll Marry You – Pam Ayres
This funny wedding reading has become a bit of a classic – and for good reason! It perfectly sums up most modern relationships.
Yes, I'll marry you, my dear,
And here's the reason why;
So I can push you out of bed
When the baby starts to cry,
And if we hear a knocking
And it's creepy and it's late,
I hand you the torch, you see,
And you investigate.
Yes I'll marry you, my dear,
You may not apprehend it,
But when the tumble-drier goes
It's you that has to mend it,
You have to face the neighbour
Should our labrador attack him,
And if a drunkard fondles me
It's you that has to whack him.
Yes, I'll marry you,
You're virile and you're lean,
My house is like a pigsty
You can help to keep it clean.
That sexy little dinner
Which you served by candlelight,
As I do chipolatas,
You can cook it every night!
It's you who has to work the drill
and put up curtain track,
And when I've got PMT it's you who gets the flak,
I do see great advantages,
But none of them for you,
And so before you see the light,
I do, I do, I do!
72. A Lovely Love Story – Edward Monkton
For those of you with a bit of cuddly side, this adorable poem is great for the couple who doesn't take themselves too seriously.
The fierce Dinosaur was trapped inside his cage of ice. Although it was cold he was happy in there. It was, after all, his cage.
Then along came the Lovely Other Dinosaur.
The Lovely Other Dinosaur melted the Dinosaur's cage with kind words and loving thoughts.
I like this Dinosaur thought the Lovely Other Dinosaur.
Although he is fierce he is also tender and he is funny.
He is also quite clever though I will not tell him this for now.
I like this Lovely Other Dinosaur, thought the Dinosaur. She is beautiful and she is different and she smells so nice.
She is also a free spirit which is a quality I much admire in a dinosaur.
But he can be so distant and so peculiar at times, thought the Lovely Other Dinosaur.
He is also overly fond of things.
Are all Dinosaurs so overly fond of things?
But her mind skips from here to there so quickly, thought the Dinosaur. She is also uncommonly keen on shopping.
Are all Lovely Other Dinosaurs so uncommonly keen on shopping?
I will forgive his peculiarity and his concern for things, thought the Lovely Other Dinosaur. For they are part of what makes him a richly charactered individual.
I will forgive her skipping mind and her fondness for shopping, thought the Dinosaur. For she fills our life with beautiful thoughts and wonderful surprises. Besides, I am not unkeen on shopping either.
Now the Dinosaur and the Lovely Other Dinosaur are old.
Look at them.
Together they stand on the hill telling each other stories and feeling the warmth of the sun on their backs.
And that, my friends, is how it is with love.
Let us all be Dinosaurs and Lovely Other Dinosaurs together.
For the sun is warm.
And the world is a beautiful place.
73. Gravitation – Albert Einstein
Simple, concise and beautiful. This short quote by Einstein sums up love beautifully.
"Gravitation cannot be held responsible for people falling in love. How on earth can you explain in terms of chemistry and physics so important a biological phenomenon as first love? Put your hand on a stove for a minute and it seems like an hour. Sit with that special girl for an hour and it seems like a minute. That's relativity."
74. He Never Leaves The Seat Up – Anon
Have you wedding guests rolling in the aisles and then tearing up at the end with this poem.
He never leaves the seat up
Or wet towels upon the floor
The toothpaste has the lid on
And he always shuts the door!
She's very clean and tidy
Though she may sometimes delude
Leave your things out at your peril
In a second they'll have moved!
He's a very active person
As are all his next of kin
Whereas she likes lazy days
He'll still drag her to the gym!
He romances her and dines her
Home cooked dinners and the like
He even knows her favourite food
And spoils her day and night!
She's thoughtful when he looks at her
A smile upon his face
Will he look that good in 50 years
When his dentures aren't in place?!
He says he loves her figure
And her mental prowess too
But when gravity takes her over
Will she charm with her IQ?
She says she loves his kindness
And his patience is a must
And of course she thinks he's handsome
Which in her eyes is a plus!
They're both not wholly perfect
But who are we to judge
He can be pig headed
Whereas she won't even budge!
All that said and done
They love the time they spent together
And I hope as I'm sure you do
That this fine day will last forever.
He'll be more than just her husband
He'll also be her friend
And she'll be more than just his wife
She's be his soul mate – till the end.
75. To My Valentine – Ogden Nash
This little reading is an unconventional take on love! Ideal for those who aren't really fans of the mushy stuff.
More than a catbird hates a cat,
Or a criminal hates a clue,
Or the Axis hates the United States,
That's how much I love you.
I love you more than a duck can swim,
And more than a grapefruit squirts,
I love you more than a gin rummy is a bore,
And more than a toothache hurts.
As a shipwrecked sailor hates the sea,
Or a juggler hates a shove,
As a hostess detests unexpected guests,
That's how much you I love.
I love you more than a wasp can sting,
And more than the subway jerks,
I love you as much as a beggar needs a crutch,
And more than a hangnail irks.
I swear to you by the stars above,
And below, if such there be,
As the High Court loathes perjurious oaths,
That's how you're loved by me.
76. I Rely On You – Hovis Presley
We wouldn't normally recommend comparing your other half to a HGV, but in this instance we're all for it.
I rely on you
like a camera needs a shutter
like a gambler needs a flutter
like a golfer needs a putter
like a buttered scone involves some butter
I rely on you
like an acrobat needs ice cool nerve
like a hairpin needs a drastic curve
like an HGV needs endless derv
like an outside left needs a body swerve
I rely on you
like a handyman needs pliers
like an auctioneer needs buyers
like a laundromat needs driers
like The Good Life needed Richard Briers
I rely on you.
77. Marriage – Anon
A more realistic viewpoint on the highs and lows of marriage with this wedding poem. Surprisingly lovely all the same.
Marriage is about giving and taking
And forging and forsaking
Kissing and loving and pushing and shoving
Caring and sharing and screaming and swearing
About being together whatever the weather
About being driven to the end of your tether
About sweetness and kindness
And wisdom and blindness
It's about being strong when you're feeling quite weak
It's about saying nothing when you're dying to speak
It's about being wrong when you know you are right
It's about giving in, before there's a fight
It's about you two living as cheaply as one
(you can give us a call if you know how that's done!)
Never heeding advice that was always well meant
Never counting the cost until it's all spent
And for you two today it's about to begin
And for all that the two of you had to put in
Some days filled with joy, and some days with sadness
Too late you'll discover that marriage is madness.
78. I'll Be There For You – Louise Cuddon
Like the infamous Friends song, this wedding poem will leave you feeling warm and comforted and with a big old smile on your face!
I'll be there my darling, through thick and through thin
When your mind's in a mess and your head's in a spin
When your plane's been delayed, and you've missed the last train.
When life is just threatening to drive you insane
When your thrilling whodunit has lost its last page
When somebody tells you, you're looking your age
When your coffee's too cool, and your wine is too warm
When the forecast said "Fine", but you're out in a storm
When your quick break hotel, turns into a slum
And your holiday photos show only your thumb
When you park for five minutes in a resident's bay
And return to discover you've been towed away
When the jeans that you bought in hope or in haste
Just stick on your hips and don't reach round your waist
When the food you most like brings you out in red rashes
When as soon as you boot up the bloody thing crashes
So my darling, my sweetheart, my dear…
When you break a rule, when you act the fool
When you've got the flu, when you're in a stew
When you're last in the queue, don't feel blue
'cause I'm telling you, I'll be there.
79. Recipe For Love – Anon
Quirky and unique, this certainly sounds like the recipe for an awesome marriage to us!
Put the love, good looks and sweet temper into a well furnished house. Beat the butter of youth to a cream, and mix well together with the blindness of faults.
Stir the pounded wit and good humour into the sweet argument, then add the rippling laughter and common sense. Work the whole together until everything is well mixed and bake gently for ever.
80. A Word To Husbands – Ogden Nash
Husbands-to-be, we would totally print this out and stick it on the fridge if we were you.
To keep your marriage brimming,
With love in the loving cup,
Whenever you're wrong admit it;
Whenever you're right shut up.
81. Grow Old With You – The Wedding Singer
We're particularly fond of the bit about doing the dishes and taking care of us after drinking one too many!
I wanna make you smile whenever you're sad
Carry you around when your arthritis is bad
All I wanna do is grow old with you
I'll get your medicine when your tummy aches
Build you a fire if the furnace breaks
Oh, it could be so nice, growing old with you
I'll miss you
Kiss you
Give you my coat when you are cold
Need you
Feed you
Even let you hold the remote control
So let me do the dishes in our kitchen sink
Put you to bed when you've had too much to drink
Oh, I could be the man who grows old with you
I wanna grow old with you
82. Love Is – Adrian Henri
Sweet, funny and just a little bit cheeky; we're totally in love with this one.
Love is…
Love is feeling cold in the back of vans
Love is a fanclub with only two fans
Love is walking holding paint stained hands
Love is.
Love is fish and chips on winter nights
Love is blankets full of strange delights
Love is when you don't put out the light
Love is
Love is the presents in Christmas shops
Love is when you're feeling Top of the Pops
Love is what happens when the music stops
Love is
Love is white panties lying all forlorn
Love is pink nightdresses still slightly warm
Love is when you have to leave at dawn
Love is
Love is you and love is me
Love is prison and love is free
Love's what's there when you are away from me
Love is…
83. Be My Homer – Anon
Calling all couples who grew up watching our favourite yellow TV family! This one is guaranteed to get a smile out of even the grumpiest grans and aunts.
Be my Homer
I wanna be your Marge.
If I'm your Norfolk Broads
Will you be my barge?
Let's please be Tom and Barbara,
I will show you The Good Life.
Even though we're not yet married
I would love to be your wife.
I've the passion Lily Munster
has for her dear Herman.
I would love you if you were ginger,
I would love you if you were German.
Like Mr and Mrs Huxtable,
We'd smooch even when we're wrinkly.
I'll even consider ironing your shirts,
But I hope you like them crinkly.
Like Mr and Mrs Incredible
I'm flexible and you're tough.
But if you promise to be my true love
That will always be enough.
Like Bonny and that Clyde guy
without all the dying.
Like Gwyneth and that Coldplay man
without all the crying.
My partner in crime, the love of my life.
---
Added Reading Details
Some of our clients aren't sure about how the readings are incorporated, or how many they can/should have. Here are a few notes on the matters.
How Many Readings Can You Have at a Wedding?
It's very common to want to incorporate wedding readings into the ceremony but, as celebrants, we suggest no more than two readings. A wedding ceremony is an adventure and your celebrant is there to serve as your story teller, to share your journey – a roller coaster of a tale with humorous highs, meaningful lows, and full of love and passion.
Two people delivering readings is a perfect addition but you want to keep your guests engaged. You want them to listen to each word of the readings you have chosen and not think "Oh, another reading!". These are compliments to your love story. Ultimately, it's completely up to the you, the couple, how many readings you have, just consider how long you want your ceremony to be and speak to your celebrant about timings before deciding.
How to Deliver a Wedding Reading?
Before anything else, always give your celebrant a copy of all the readings that are going to be recited, even if they aren't the one delivering it, so they know what will be said, and can gauge how long the reading will last. This is so that they know how to introduce it appropriately and so that timings can be incorporated into the ceremony. Encourage your readers to meet with your celebrant prior to the ceremony starting to ensure that they are still able to recite the words as practiced. Practicing at home is very different from doing it on the day in front of friends and family.
You'll want to ensure the person doing the reading is confident at public speaking, but if your celebrant has a copy of the reading, they can then be on standby should the reader forget their copy or become too nervous to read aloud.
When it comes to delivering the reading, it's important that the person reading doesn't stare down at the ground or piece of paper and mumble. You want to be standing proud and tall, lift the reading up and speak clearly, without rushing, so that everyone can hear the beautiful words being said. Ensure the print is big enough to be read, and make sure they remember their reading glasses if they need them.
How Do You Introduce a Wedding Reading?
Usually your celebrant would introduce the reading if it's taking place during the ceremony. We try and keep it fun and upbeat and would say something along the lines of, "Now I would like to invite _____ to come forward and join us to recite _____". The introduction of any wedding reading should be as natural and seamless as possible.
The main things to remember are to introduce the person who is delivering the reading, and the title of the reading itself.
You can request specific introductions for your celebrant to deliver as well. In the past, couples have asked me to bring serious attention to the person about to deliver readings from a child's nursery rhyme, pop song or television show – it puts a smile on everyone's face when they hear the playfulness in the reading.
When Do Readings Happen in a Wedding?
As a celebrant, I write the wedding ceremony first and then look where the reading(s) fit best within the ceremony to ensure a seamless link from me speaking, to the guests reciting the readings. Every single ceremony is unique and the reading may sit differently depending on what readings you have chosen and what kind of ceremony the couple wants.
I have officiated several weddings where the reading was recited after the signing of the documentation – it's a nice way to bring all the guests back to full listening before I announce the new happy couple and send them off on their adventure.
Want something a bit more unusual? Try a Harry Potter quote about love, or a favorite Disney quote.